Shipping
The following parts are excluded from Free Shipping unless otherwise stated:
All tires, full suspension lift kits, oversized bumpers, tire carriers, body tubs, hard tops, cargo racks, and drivetrain parts;
Oversized items and items delivered by truck freight (Truck Freight Items Ship Free When You Pick Up In Store);
Prior purchases and returns.
Additional delivery days may apply to hazardous items, mounted tires & wheels, oversized items, truck freight items, and select zip codes or remote delivery areas as determined by carrier.
Truck freight will be used to ship items that are too large for standard service (includes to-your-door delivery) and will be charger
How to use the site
Here's a quick step by step guide how to use our web site: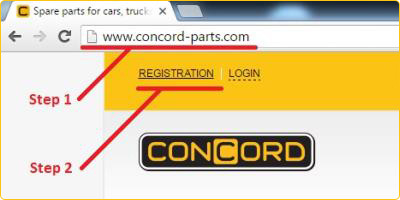 3) Fill all marked fields
4) Press "Sign up" button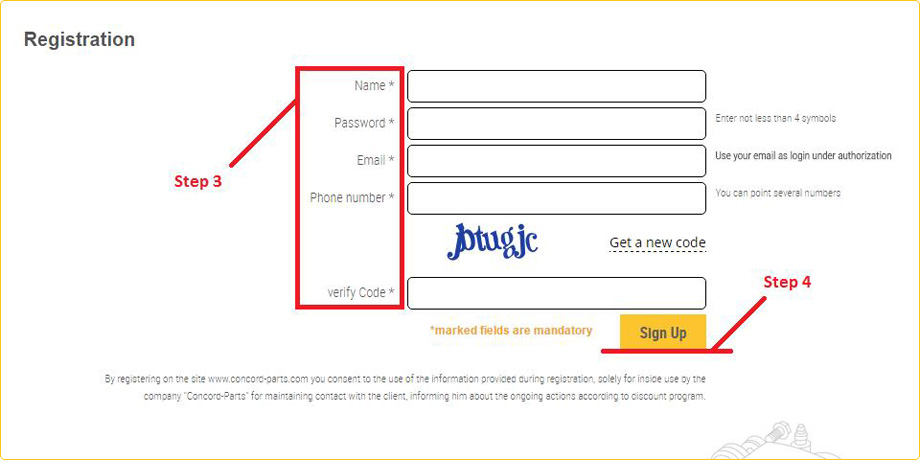 5) After you login in, just enter part number in the search bar
6) Press "Search" button to view results

7) Choose between our suppliers according on price, stock or delivery time.
8) Put chosen position on card by pressing basket button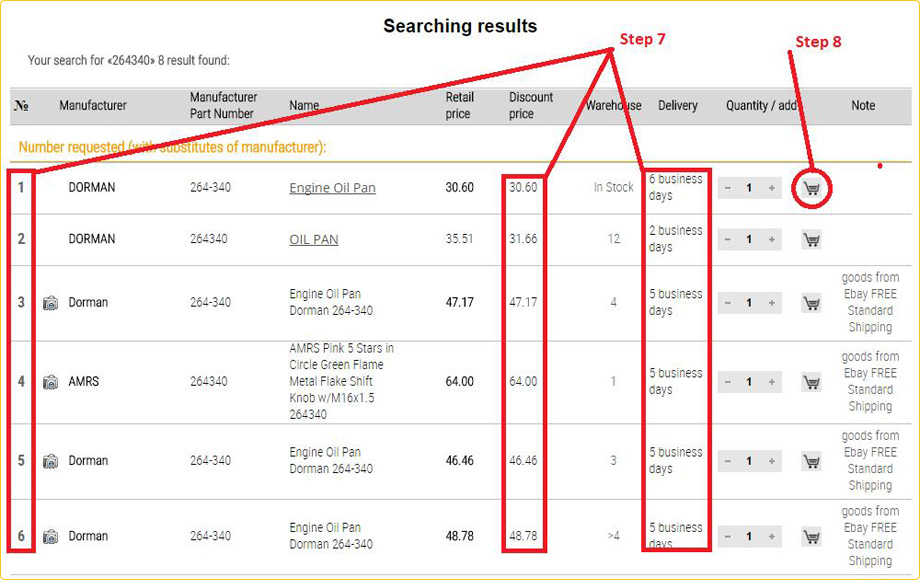 Do the same thing for other positions you are looking for. Then just follow instructions on screen.
Return Policy
Every part we sell may be returned within 30 days for a refund of the part price. Arrange your return on the Order Status & Returns page.
If a part doesn't fit, don't try to "make it fit" and risk damaging the part, your car, or yourself! Concord Spare Parts is not responsible for any costs exceeding the cost of the part, and we will not accept returns of parts that have been installed or modified.
To receive credit, a returned part must be complete and in its original, unmarked manufacturer's packaging. Cores must be returned in the box the new part came in.
Shipping charges are not refundable unless the return is due to our mistake. If you refuse delivery or the carrier returns a package because you provided an invalid address, the cost of return shipping will be deducted from your refund.
No return or exchange on special order, used or electrical parts.
Don't accept returns for items specified as "non-returlable"
Privacy Policy
Your information is safe
Neither your name nor anything about you is sold or shared with any other company.
The following states the Concord spare Parts LLC policy regarding the privacy rights of visitors to this website. We respect your right to privacy and your desire for a secure online shopping experience.
Our postal address is:
1330 Livingston Ave
North Brunswick NJ 08902
We can be reached by telephone at 1-732-374-3872
Information we collect and how it' s used
We collect aggregate information on visits made to our pages. This information helps us improve the content of our site.
When you purchase a product on concord-parts.com , we ask you for the following information: name, address, phone number, e-mail address, and credit card. This information is used to process your order and if necessary, to contact you for help when we are processing an order. All information we collect is stored in a secure database.
Concord Spare Parts LLC also collects e-mail addresses to inform our customers that we received the order, and to send notifications of special offers and promotions.
About Children (Under 18)
For their protection, we ask that children do not submit information to us without the consent of a parent or guardian.
Secure Shopping
We use VeriSign as our SSL (Secure Socket Layer) digital certificate provider, providing our customers the strongest certificate services available. Your credit card information is encrypted while traveling the Internet.
Disclosure of Information Policy
We never make your e-mail address available to any other company or organization.
If you supply us with your postal address, you may receive periodic mailings of Catalogs from JEGS High Performance. If you do not wish to receive such mailings, please let us know by calling or writing us at the above address.
If you have supplied us with your postal address, we do not share your name and address with any companies.
Need to make a change?
If you would like to change any of your transactional information in our database please feel free to contact us. You' ll find our phone number and address at the top of this page.